A Brief Story of Black Forest Cuckoo Clocks and Their Past, Present and Future.
A Brief Story of Black Forest Cuckoo Clocks and Their Past, Present and Future.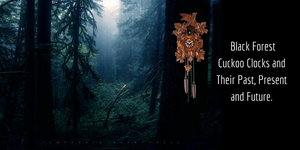 It is unlikely that we would some day find out the exact origins of the cuckoo clock. We do know however, that the first cuckoo clocks were made as early as 1640, as the oldest known Black Forest cuckoo clock dates to that time. It is believed that they were first created in a small and remote village called Schonwald, deep in the Black forest. The Cuckoo Song from the forest meant good luck. The first cuckoo clock was thought to be made by a clock master  who wanted to mark the time with a cuckoo chime. Therefore he set out to create a wooden clock, which would allow a cuckoo bird to pop out every hour announcing the hour by how many times it would cuckoo. It didn't take a long time for the Cuckoo clock's popularity to grow, spreading out further into other parts of Germany including major cities. 
It is believed that two German tradesman got lost in the Black Forest but fortunately happened upon a remote village where they were welcomed as guests. While staying in the village for a few days to rest before a long journey back through the forest, they saw a cuckoo clock,  which at first glance mesmerized them as they become bewitched by the vast design of the wooden clock. When the tradesmen left the village, they took the clock with them. Soon enough the Black Forest Cuckoo clocks become immensely famous and enriched the tradesmen who first discovered them. 
During the winter months in the Black forest, people had time to create intricate detailed clocks of many different cravings. Villagers even competed amongst themselves in who would create the most astonishingly carved clock. Old clocks, and original drawings of the first clocks are still used as patterns for new models, but the cuckoo clock remains in its basic form. 
Cuckoo clocks are amazing ornaments in the house whether there from the past, present or future, and continue to cheer up their owners and guests of the house with the lucky call.