Cuckoo Clocks for Young and Old
Cuckoo Clocks for Young and Old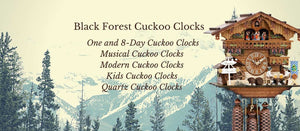 A Brief History
The Cuckoo Clock is among the most beloved and iconic of all clocks. Its legendary origin traces back to the 1600s Black Forest region of Germany. Ever since an unnamed genius invented this clock all those years ago, the civilized world has been enjoying its benefits. The inventor's vision to blend beauty and practicality lives on through the vast array of Cuckoo Clocks surrounding us today. Many simply copy the   stunning designs of centuries past, while others forge a new path in the styles of modern day clocks.
Choosing a design from among so many worthy options can be daunting, but never fear. There are simple steps to determine the perfect choice for you and your home.
Finding the Right Clock for You
The first step is to choose your ideal theme. Consider your other decorations, and decide what style you enjoy most.
Second, determine where your clock will go. Do you want it to enhance the room's decor as a side ornament? Or be the centerpiece? This will inform what style of clock will work best.
Third, think outside the box. There are many shapes and sizes of clocks to choose from, so you'll have a variety of options on what clocks will work best for you. Consider collections of complimenting clocks, a centerpiece clock, or strategically placed clocks around your home to keep you on schedule.
Holiday Tradition
As we enter the Holiday Season, the sense of magic surrounding this time grows stronger, and we're reminded of the important things in life: family and relationships, our values, and wholesome traditions.
Cuckoo Clocks have been part of the holiday tradition for centuries. They've adorned living room walls and have been given as gifts for generations, some clocks even being passed down from parent to child.
Cuckoo Clocks for Kids
An ideal gift, Cuckoo Clocks are now being designed with variations specifically for modern day kids. These newly imagined models help children learn to tell time, and add a fun, cultural element to your child's room.
Choosing the right clock for this important room in your home can be a challenge, but with the varieties of clocks now available, finding the right one for you has never been easier.
Some of the most popular are Cuckoo Clocks where one of several animals replaces the cuckoo. These are bright, colorful clocks ideal for younger children. 
If you're looking for a more sturdy, sophisticated feel, there are solid colored musical Cuckoo Clocks as well.
For children who appreciate the classic Cuckoo Clock style, there are several enchanting varieties that capture the mystery and magic of the legendary Black Forest region. These feature iconic scenes displaying the culture of the area, or scenes capturing the myth and legend surrounding it.
And if a wall-hanging clock isn't a good fit, there are tabletop varieties to choose from as well.
Lastly, there is a wide range of the classic Cuckoo Clocks that are wound by pulling the chain daily or weekly. These are truly some of the most iconic, traditional variations of the Cuckoo Clock available to us today. These nostalgic clocks can last for decades, and be passed down from parent to child.
So with the holiday season upon us, consider starting a new tradition. Gift your child with a clock that can last a lifetime, and that can become an heirloom for future generations.