Qwirly® Kinetic Spinners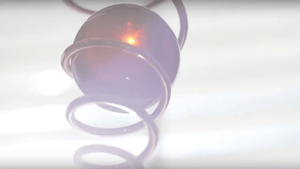 Qwirly® Kinetic Spinners
ATTRACTIVE. INTRIGUING. UNIQUE. MEDITATIVE. SOOTHING. SIMPLE IN DESIGN. PLEASANT TO THE TOUCH. A QWIRLY™ IS TIMELY AND TIMELESS. 
A Qwirly™ is kinetic joy, to borrow a phrase from the celebrated author Zadie Smith. To twirl a Qwirly™ is to unleash a sense of joy — and awe.
There is something magical about a Qwirly™. As an optical illusion, a Qwirly™ is a feast for the eyes and the imagination. 
A Qwirly™ mesmerizes and inspires. A Qwirly™ relieves stress and calms the mind. A Qwirly™ serves as a source of entertainment and a catalyst for conversation.
A Qwirly™ is a work of art that enhances the beauty of any room with its striking design and graceful movement.
A PERFECT GIFT THAT SOLD OUT ON QVC IN TEN MINUTES: made of timeless quality materials: metal and glass Qwirly Spinner is a perfect gift for birthdays, holidays, wedding decor, trophies, photography prop and any other occasion. 

ATTRACTIVE PACKAGE -  comes packaged in an attractive box.

FENG SHUI - STRESS RELIEF: A large rotating spinner and ball can help calm and relax the mind, reduce anxiety and allow you to better focus your mental attention. Great for divination and mystical rituals. 

VARIETY OF CHOICES: Comes in silver and copper metal finishes and a range of glass spheres to match any decor and mood.