Buying Considerations. How to Choose A Clock of Enduring Value and Timeless Style.
Buying Considerations. How to Choose A Clock of Enduring Value and Timeless Style.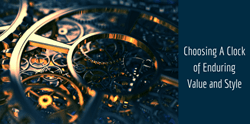 Are you looking for a grandfather clock or traditional wall clock with a mechanical movement that has enduring value and can serve as a true heirloom piece? Are you looking for a whimsical and futuristic wall clock to brighten a room? Astronomical clocks, such as the Tellurium, are in a class by themselves, and coveted by many as the gift of a lifetime.
Another big consideration tends to be the question of mechanical key-wound movement vs. quartz batter-operated movement. Here the decision comes down to whether or not the recipient wants to play the role of clock winder.
Of course, the "look and feel" of the clock and the materials used in the design and production invariably come into play in the decision-making process. Do you want an all-wood case, as is standard for traditional designs? A metal and glass look? Metals run the gamut, from polished bronze and nickel to wrought iron. Some designs feature weights and pendulums. Some feature finials or moon dials. Some feature frosted dials.
The chiming melody, which is offered with most traditional clocks, may be another consideration. Historic chimes, including St. Michael, Westminster and Whittington, can still be heard in many traditional clocks. Some of the higher-end mechanical movement clocks feature triple chime options.
Mechanical vs. Quartz Movement
Choosing between a clock with a mechanical movement (which requires periodic winding) and one that is battery-powered (which requires no winding) is a little like choosing between a car with manual transmission and one with automatic transmission. Both options offer distinct advantages – and also, in the minds of some people, certain disadvantages. In the end, the choice depends on personal preference.
For some people, the act of winding a clock is pure joy. They delight in engaging with the innerworkings, of hearing the clicking sound of the gears as they turn the key, and perhaps feeling a certain historic connection to the machinery. Other people are happy to let clock run on its own, free of responsibility. Mechanical key-wound clocks require routine maintenance, including regular cleaning and oiling. Battery-powered clocks are generally maintenance-free, aside from the need to replace the batteries once every few years.
Different mechanical clocks have different winding requirements. Some clocks have a single winder 14-day key-wind movement. Clocks with a 4/4 Westminster chime or triple chime movement have three separate winders. The center winder is used for timekeeping, the right winder for the quarter-hour chime, and the left winder for the hour strike. For optimum performance, it is best to fully wind these clocks every 7-8 days.
Traditional vs. Contemporary
As with the choice between a key-wound clock and quartz battery-operated clock, the choice of a traditional clock or a contemporary (or modern) clock comes down to one of personal preference. While Hermle clocks are world renown for timekeeping accuracy, in a world where smart phones, digital appliances and voice-controlled speakers have become ubiquitous, nobody "needs" a beautifully designed clock in order to know the current time. The exquisite clocks in our collections are more about aesthetics, luxury and enduring value.
When it comes to traditional clocks, what is old is new again. Centuries-old traditional clock designs, and even mid-20th-century designs, are today making their way to the top of trending lists for home décor and gift giving. Many of our most popular floor, wall and mantle clocks are reminiscent of clock designs from the 18th and 19th centuries. Many models are virtually unchanged from that era. Some are exact replicas. 
Contemporary clocks, on the other hand, are boldly modern. Some are even futuristic in design, flaunting space age metals and other materials. While some contemporary clocks include wood cases, many offer a unique twist on traditional styles. The Jaxon Silverrail Black Alu table clock features a black piano finish, for example, and the Carrington Mechanical German Regulator has a natural beechwood finish. Some contemporary wall clocks have curved glass doors. Some have a pendulum, but may not feature chiming melodies. Making contemporary clocks part of their home or office décor can enhance the feeling of modern charm or industrial minimalism.
When decorating a home or office with retro touches, it may make sense to embrace a traditional style consistent with the vintage furniture and other decor. On the other hand, there is nothing wrong with putting a traditional grandfather clock in a place where it can embellish the stark interior and add a hint of traditionality. Some people may wish to swap the flat screen TV for an elegant timepiece that also becomes a wonderful conversation piece. Some clocks conjure up personal memories of people and places and offer a warm sense of familiarity. An old-school wall clock with bold number fonts on the face may, for example, prompt one to fondly recall their 20th-century school days. 
In the end, both traditional and contemporary clocks serve as decorative objects that can enhance the décor of a home or office in ways that are unique and personal. Some of our clocks provide unobtrusive flourishes to any open space. Some clocks, particularly the high-end timepieces in our astronomical and regulator collections, are museum-quality works of art. All Hermle clocks bring a touch of utilitarianism if you really need to know what time it is and that smartphone just happens to be out of reach.