Hospitality Managers Enhance Hotel Decor and The Guest Experience with Luxury Clocks
Hospitality Managers Enhance Hotel Decor and The Guest Experience with Luxury Clocks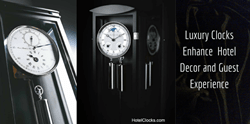 Timely & Timeless, The World's Most Exquisite Hotel Clocks, Launches HotelClocks.com to Serve The Hospitality Industry 
Nothing enhances the look and feel of a luxury hotel or resort like an exquisite clock. And no company makes more exquisite clocks than Hermle. The right timepieces accentuate the architecture, complement the other furnishings, and improve the guest experience. Whether traditional or modern in design, exquisite clocks radiate warmth and beauty across the property, from the lobby and corridors to the restaurants and guest rooms.
Exquisite clocks have always been a central feature of hotel lobbies. The original Grandfather Clock referred to a floor clock in London's George Hotel. As the story goes, the hotel was owned by two brothers. The death of one of them caused the clock to malfunction, resulting in the death of the second brother. The story inspired the song "My Grandfather's Clock," composed in 1875. While grandfather clocks remain popular, today's lobbies are just as apt to showcase a modern floor clock or even a regulator or astronomical clock.
Handmade in Germany or America of the highest quality materials, and backed by the reputation of a century-old company considered to be the best in the business, Hermle floor, table and
wall clocks
adorn the interiors of thousands of luxury hotels and resorts around the world.