Hermle Goes Green By Finding Ecologically Friendly Manufacturing Methods
Hermle Goes Green By Finding Ecologically Friendly Manufacturing Methods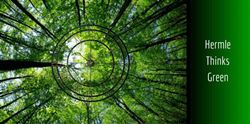 Finding ecologically friendly manufacturing methods is about more than meeting consumer demands: it can actually save your business thousands of dollars a year.

Hermle North America manufactures our clocks in house, and just as the push for ecologically friendly products reaches its peak in manufacturing, the demand for sustainable, clean, toxin-free, and natural products produced in energy efficient settings has us wondering, what are ways that we can think green? According the the U.S. Department of energy, the industrial sector is the country's largest energy user, currently representing more than one-third of the country's total energy consumption. As Hermle produces more than 1 million units each year, that means the potential to waste energy was not only possible, it was probable.
"Going green has been something that Hermle has had in its vision for awhile now," Chad Eby, President of Hermle North America said. "When you're producing as many clocks as we are, its important to keep the environment in mind." Based on a recent survey that was conducted, the end consumer of Hermle products consists of a population that suffers from asthma and allergies, to those battling cancer and other autoimmune diseases, or even new parents looking to minimize toxins and chemicals in their home in favor of more natural products. "We needed to pay even more attention to our market and make sure we were meeting their needs."

"The question we needed to ask ourselves was," Chad said, "what are ways that we can move towards green manufacturing without compromising on quality?"

The way Hermle uses energy was a priority. In an older facility, the likelihood of energy waste was high. A thorough inspection of our building while we worked to streamline the manufacturing process to be as efficiently as possible meant that several problem areas were discovered. By simply replacing our lighting throughout the 90,000 sq. ft. facility with more energy efficient products and controls, Hermle North America's energy consumption was reduced by over 40% (not to mention the newer light fixtures meant the risk of mercury contaminants was essentially eliminated). Even by simply monitoring the plants' electrical footprint and monitoring energy use, we were able to reevaluate methods of energy conservation and keep track of our goal towards efficiency. 

Our wood consumption though, remains a question that Hermle struggles with. As the majority of our products consist of handcrafted specialty wood cases, it was a challenge to find ways to maintain our top product quality while also using the products in a way that reduced waste as much as possible. When product engineer Ben Ashwell joined the team in February of this year, one of the first changes he suggested was updating the designing software that Hermle used. This allowed us to not only design the pieces more efficiently and avoiding more error (thus eliminating needless product waste), but allowed the various pieces to be laid out more efficiently to be as conscious of the materials we used as we could be. Our machines were also inspected to ensure that they were energy efficient in not consuming energy while they weren't in use.

"We also looked into what we could do with what else was left over," Eby said. The bulk of the byproduct is sawdust, which is eventually gathered up and blown through a metal pipe and into a nearby storage shed until it is picked up for collection by a company that recycles the waste into wood-pellets, which are then in turn burned in woodstoves and furnaces as an alternative energy source. 

"We make sure we use every part of the material that we have. Everything is used for one purpose or another," Eby said. "It's not just about good business—it's about being mindful of our Earth and environment."