Browse Our Clock Collections of Mantel, Table, Wall, Floor and Grandfather Clocks
Affordable Black Forest Cuckoo Clocks
From the Blog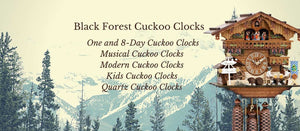 With the holiday season upon us, consider starting a new tradition. Gift your child with a clock that can last a lifetime, and that can become an heirloom for future generations.
Award Winning Novelty Coo Clocks with Animal Sound for The Young and Young at Heart!
Time to replace your old clock movement? We have the largest selection of Hermle, Kieninger and Regula Clock Movements as well as Jauch Conversion Kits and are here to answer your questions and assist in any way possible
Unique and exquisite designs. Precision craftsmanship. Uncommon beauty and enduring value. Handmade in Germany or America of only the highest quality materials. Backed by a 3-year warranty and the reputation of a century-old company considered to be the best in the business. The gift of a Hermle clock, for yourself or someone else, is the gift of a lifetime. It is a prized possession, to be enjoyed, cherished — and, eventually, passed down from one generation to the next. Simply put, a Hermle clock is timely and timeless.  
Since 1912, the name Kieninger has been synonymous with the finest mechanical clocks and very best mechanical movements in the world. Rightly considered true masterpieces of German clock making, Kieninger clocks are mainly limited edition and made to order (requiring 6-8 weeks for delivery), with many models incomparable to any other clock by any manufacturer. Backed by a 3-year warranty, a Kieninger clock is a prized possession. Simply put, a Kieninger clock is timely and timeless. 
Sternreiter cuckoo clocks are instantly recognizable for their intricate hand-carved, lifelike leaves and birds poised in repose or flight. There is a rustic yet refined quality seen only in the finest hand carvings that bring these clocks to life. In addition to cuckoo clocks, Sternreiter produces superb mantel and wall clocks as well as modern and practical alarm clocks made in the best of tradition and most exacting of workmanship. With a Sternreiter clock, you can count on an item made with deep affection for the art and science of clock making. 
Verein die Schwarzwalduhr, or VdS, the Black Forest Clock Association, is comprised of producers, traders and experts as well as providers, dealers and collectors who are passionate about preserving the time-tested traditions of Black Forest Germany clock makers. All of the mechanical cuckoo clocks we offer by Rombach & Haas (also known as Romba), Robert Herr and Trenkle Uhren are certified by the VDS. Some of the Sternreiter cuckoo clocks we offer also feature wooden elements carved by American master woodworkers. Although these clocks often exceed the quality of the Black Forest products, and are made in the Black Forest region, these clocks cannot be certified with the VDS stamp.
No page specified. You must choose a page for content to display here. Choose your page in Theme Settings under the Home Page heading.